The whole machine is designed and manufactured in accordance with high requirements, reliability, function and safety.
Selection of high quality materials and accessories, all transmission roller material is high quality steel, hard chrome plated, surface grinding.
Painting process: parts before painting, after rust removal - phosphating - painting - paint, can make the paint rust resistant, hard surface, paint more durable.
Imported transmission gear is adopted, which is hardened and ground.
The application of bond - free connecting ring, reduce center wear, virtual amplification, maintain long-term alignment.
More than 95% of the electrical components are made of German Schneider, and the main bearing is made of Japanese NSK bearings.
Die cutting is used in the creation of materials like cardboard packaging, uniquely shaped cards, and different types of notebooks, among other industries including printing, packaging, and paper production. We provide high-quality, portable die-cutting equipment in a variety of goods. They can be used, among other things, to cut complex-shaped plastic materials, corrugated cardboard, and solid cardboard. For instance, cutting packaging to a certain design so that it is appropriate for pre-planned forms is done with the use of cutting-edge self-service machines.
Simple machines, automatic machines with sheet pre-stripping, and automatic machines with sheet pre-stripping and a hot-press option are all part of our product line. We provide the finest quality, most user-friendly, and easily maintainable equipment to satisfy the expanding needs of our clients. They enable you to do more than just die cut; you can also groove, perforate, punch holes in, cut, and round corners on a variety of materials. Our selection of gadgets includes a waste removal system, a specific cleaning area, a paper feed tray, and a paper feed adjustment module.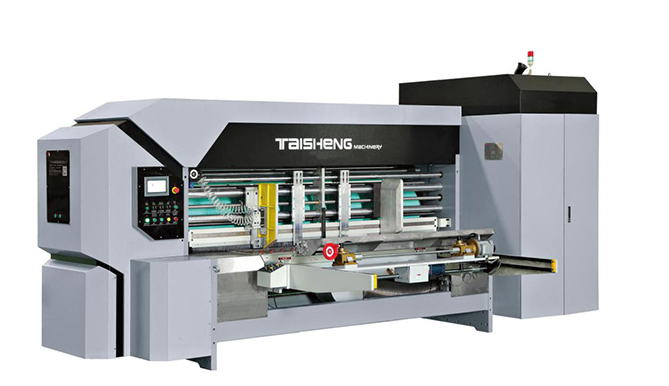 The advantages of our products
Our die cutters stand out because to their cutting-edge design and premium parts. These are extremely simple to operate, maintenance-free equipment. They are easily adaptable to even the most challenging working circumstances. Additionally, our machines have excellent end-of-product precision, high usage safety, and high stability.
Types of Automatic Die-Cutting Machines
1. Flatbed die-cutting machine
It is currently in widespread use and can be utilized to create artificially intelligent and completely intelligent die-cutting devices as well as a variety of die-cutting processes. It can cut through a variety of materials, including rubber, metal plates, corrugated cardboard, cardboard, and adhesive.
2. Rotary die-cutting machine
The circular die-cutting machine's traits include a relatively low line contact pressure and a high level of production efficiency, which is the highest among all die-cutting machines. Hard-cutting and soft-cutting are the two main categories of the die-cutting technique. An easier cut for a die cutter is a hard cut, which is a hard contact on the pressure roll's surface. The pressing roller is covered with an engineered plastic layer during the cutting process so that a specified quantity of cutting may be maintained as well as reporting to the cutter and frequent material replacement.
3. Intermittent rotating machines
A servo ink supply system, accurate ink delivery, and man-machine interaction for overprinting are all included in the up to 12000/car capacity. Additionally, it boasts a cutting-edge automatic paper-feeding technology that continuously tracks and feeds paper. The ink is thoroughly dried at a low temperature while the paper is kept unaffected thanks to the automatic power change provided by the UV drier.