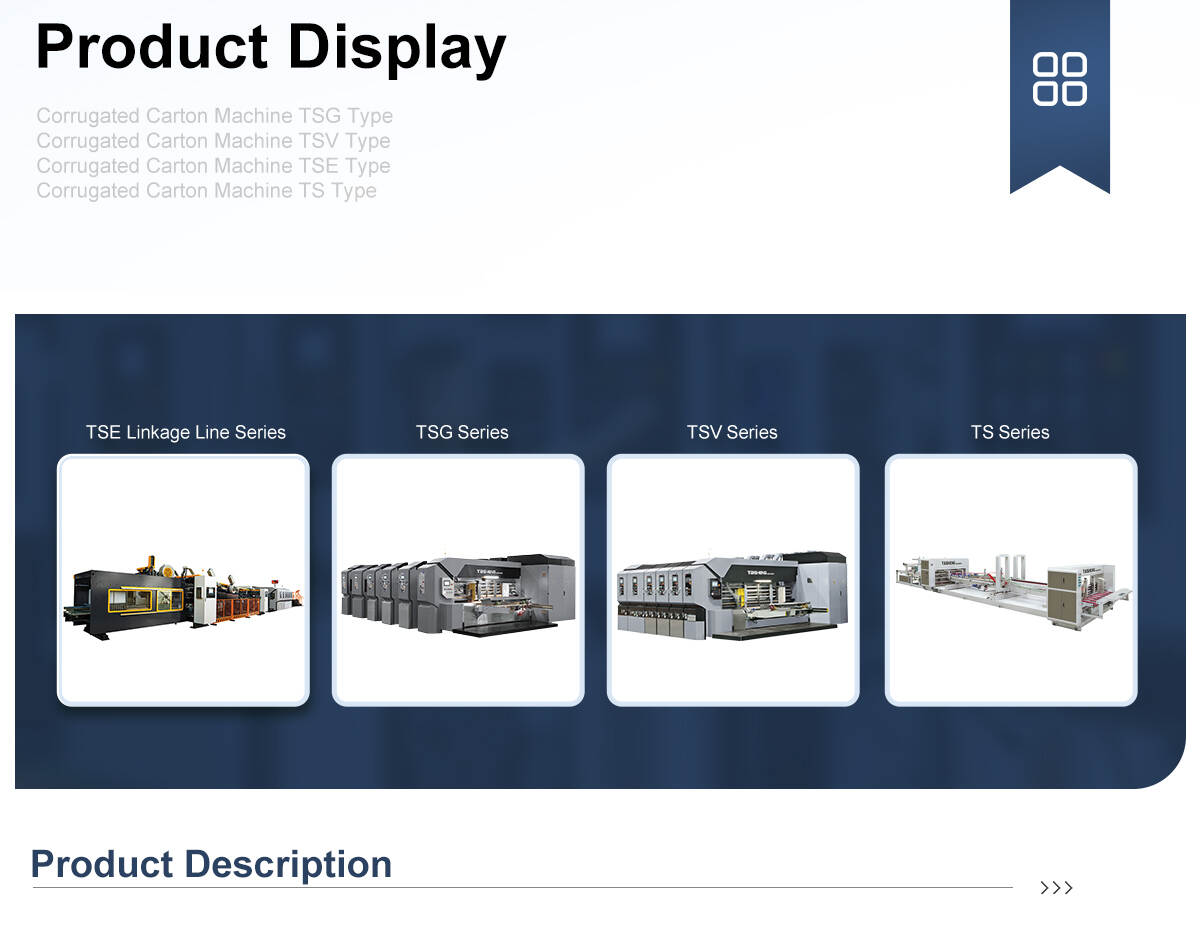 Product parameters
| Model | TSV3-920 | TSV-1224 | TSV-1628 |
| --- | --- | --- | --- |
| Max. Machine Speed (pcs/minute) | 350 | 280 | 180 |
| Max. Feeding Size (mm) | 900×2000 | 1200×2400 | 1600×2800 |
| Jump Feed Max. Cardboard Size(mm) | 1200×2000 | 1500×2400 | 1900×2800 |
| Min. Cardboard Size(mm) | 300×600 | 365×600 | 450×600 |
| Max. Printing Size | 900×1960 | 1200×2360 | 1600×2760 |
| Min Slotter Blade Space(Male)(mm) | 150×150×150×150 | 150×150×150×150 | 150×150×150×150 |
| Min Slotter Blade Space(Female)(mm) | 240×65×240×65 | 260×65×260×65 | 260×100×260×100 |
| Max Slotting Deep(mm) | 250 | 300 | 400 |

The description of product
Connected with the printing press, it can complete printing, slotting, die-cutting, gluing, folding, etc.
Calibration, counting, palletizing, packing, output.
The maximum speed of the production line is 300m/min.
The whole machine line control, computer storage order, remote control, digital input.
Key transmission procurement imported brand bearings, high-speed transmission belt.
Gluing part: stainless steel gluing wheel, corrosion resistance, uniform gluing.
Electrical appliances: All the international top brands, stable quality, reliable.
TSE high speed flexo printer slotter die-cutter machine with folder gluer inline is mainly used in food corrugated carton boxes, fruit carton boxes, industry carton boxes, and other various corrugated packaging applications. It's with high-speed folding gluing stitching production, a PLC program system, an advanced cold gluing system, and an ordered memory system application.

The Advantage of TSE High Speed Flexo Printer Slotter Die-Cutter Machine With Folder Gluer Inline
1. Touch screen controls in each moveable unit with plc. And be able to interconnect with integrated computers. All function operation and order settings are available with a digital display.
2. Integrated drive and safety protection device is used for pneumatic interlocking over each unit.
3. All transmission gears are carburized and quenched with precisely ground. When the machine running, every corner of the gears is lubricated by the recycle sprayer.
4. All core components are from international top brands.
5. In-line control of flexo printer combined with folder gluer. Integral order management and quick shift function are available. It made theagnificant revolution for a completely automatic production lines in the packaging field.