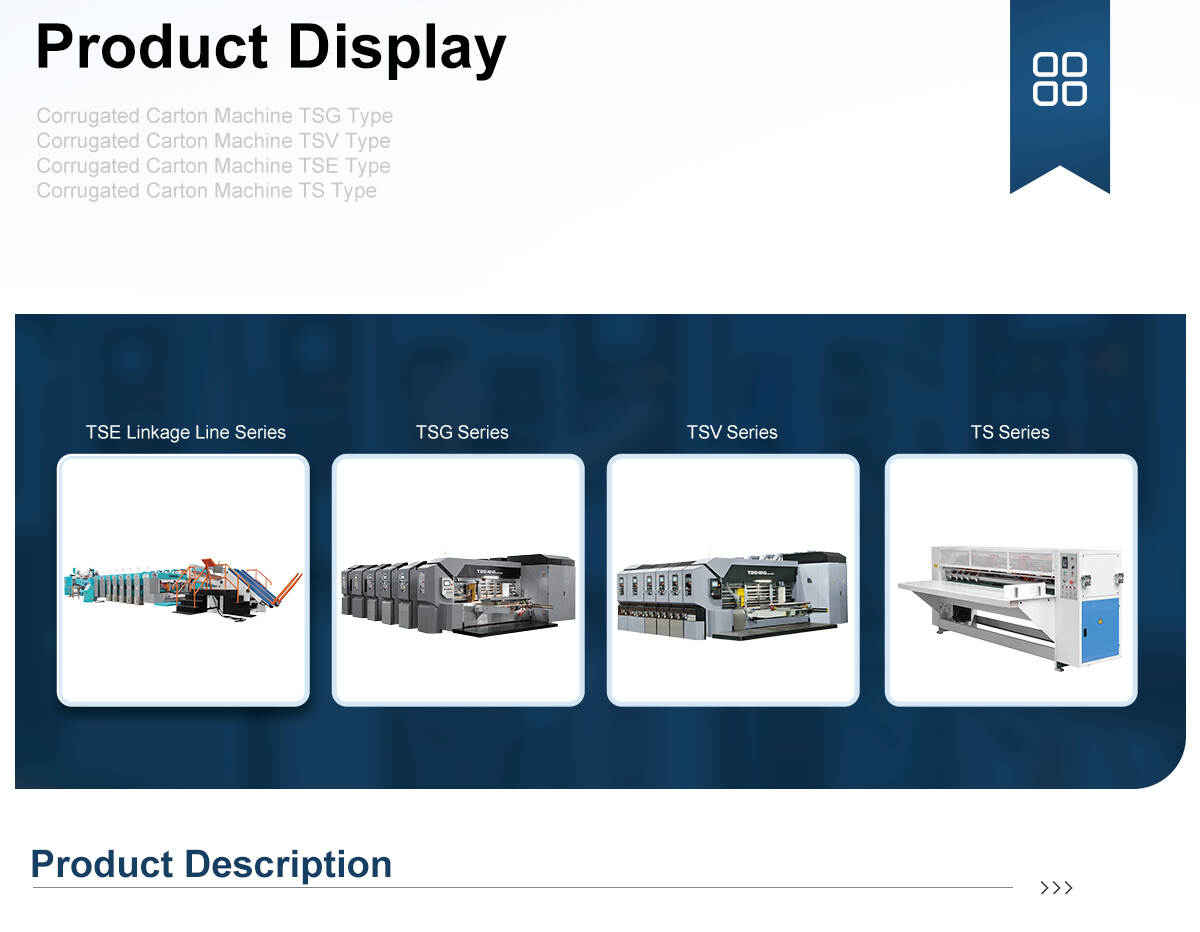 The Details of product
Model
TSV-2-920
TSV-2-1224
TSV-2-1424
TSV-2-1628
Max. Machine Speed (pcs/minute)
250
200
180
150
Max. Feeding Size (mm)
900×2000
1200×2400
1400×2400
1600×2800
Jump Feed Max. Cardboard Size(mm)
1200×2000
1500×2400
1600×2400
1900×2800
Min. Cardboard Size(mm)
300×600
365×600
400×600
450×600
Max. Printing Size
900×1960
1200×2360
1400×2360
1600×2760
Min Slotter Blade Space (same side)(mm)
150×150×150×150
150×150×150×150
150×150×150×150
150×150×150×150
Min Slotter Blade Space (against side)(mm)
240×65×240×65
260×65×260×65
260×65×260×65
260×65×260×65
Max Slotting Deep(mm)
250
300
350
400
Lead Edge Feed Printing is the upgraded version of the Chain Feed printing technology; it is 130% faster than the traditional Drum Printers. It is capable of printing 6000 boxes per hour without any errors. It is built in a retrospective design allowing you to stack multiple printing unit on the same track minimizing the cost of infrastructure while allowing you to improve your productivity and output at minimum expense.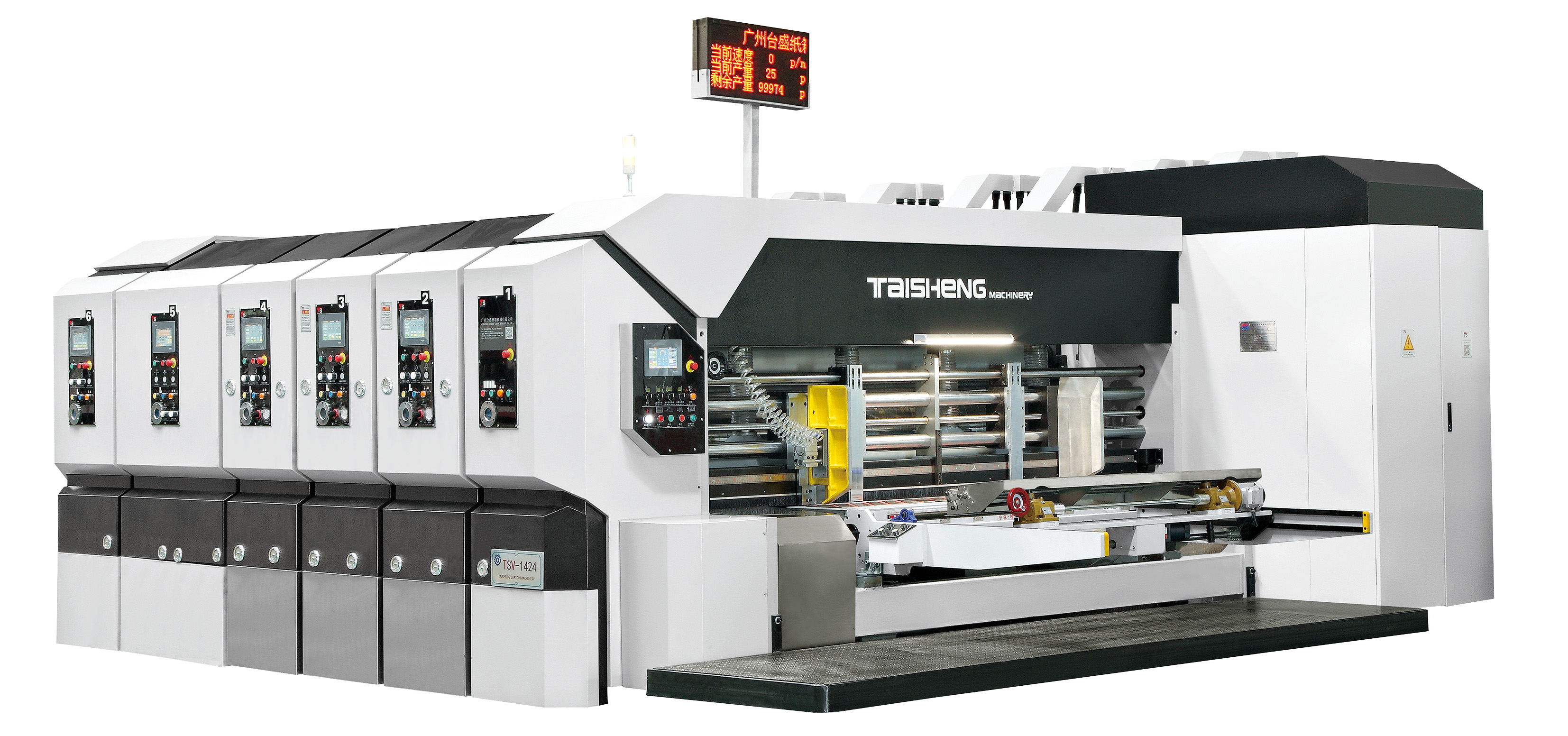 The Feature of TSV-2 Lead Edge High Speed Roller Transfer Printer Slotter Die Cutter Machine
Feeder unit:
Absorption blower assist ahead orientation and automatic sending cardboard.
The leading edge feeding system adopts Italian technology.
Front sided and backside baffle automatic adjustment,dial showing.
Equipment with wire brush and blowers to clean the scraps of paper on the surface of the sheet automatically.
Skip feed device with continuous feed or every other paper feed options.
printer unit:
Steel anilox(Ceramic anilox is optional).
Fast change device is adopted in the printing unit for changing the flexo plate.
Computerized gear adjusting for the phase of the printer freely 360° in running and stop.
Planetary gear construction for phase to increase the using times.
Brake is installed tp keep the gears fixed when machine units moving.
Memorized system for the printer.
The anilox roll separates automatically from impression cylinder when sheet is not feeding.
Slotter Unit
1.Adopt servo adjustment------ fast, exact, and stable.
2.Singel-axle double-knives structure is adopted,and the back-knife can be set by computer and adjusted electrically hands.
3.The five-knives set and all be moved,and the adjustment clearance can be set by computer and adjusted electrically by hands.
4.The slotter shaft and creaser shaft both adopt hard twice precision grinding.
5.There's the elastic corner-cutting knife.The 3 layers,5 layers and 7 layers cardboard don't need be adjusted.
6.Manual two-ways self-locking used to adjust clamping roller clearance.
7.The phase fixation adopts electromagnetic brake institution.When the machine and stage separate or adjusting the phase,keep the front knife plate fixed.
8.The HMI is equipped,which makes data setting and control easier.
9.The PLC can save 999 orders in memory.
10.The computer can automatic row of knives
Die cutter Unit
1.Die-cutting roller is made of high quality steel material,balance correction,hard-chrome plating.
2.Machine frames are made of high quality steel material,and large processing center production.
3.Anvil roll grinding mechanism automatically improve glue set of repeated use,can grinding 3-4 times.
4.Line speed automatic compensation to ensure that each batch of cardboard boxes in full accord die-size line.
5.The anvil is easy to be fixed,using life of 12 million times.
6. Mechanical soft roll about 40mm lateral movement,the anvil cushion abrasion well-distributed.
7. 40cr material is used for gears with 6 degrees precision grinding,low noise,long life.
8. Die-cutting roller is used by cylinder style automatic separating device,reduce the wear and tear of anvil pouches.
Electric element adopts Schneider.
Performance Characteristics of The Whole Machine
The product can complete the board multi-color printing, slitting indentation,trimming,slotting, corner cutting, die-cutting ,drilling and other programs ect